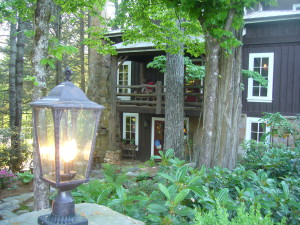 On a southern slope of the Blue Ridge Mountain, Lake Rabun Hotel struts its stuff again. Built as a hunting lodge in 1922, and later converted into a hotel, it had fallen into disrepair. Up steps Gwen North, its new owner, who wanted to renovate the old structure without compromising its historic integrity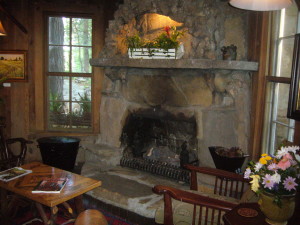 Although not forgetting the architectural footprints of the past, she introduced 21st century essentials, like private baths, heating and central air conditioning. Other additions featured a third story, a grotto-like cedar bar, a lake-view balcony and a treetop deck. But North insisted on retaining the ambiance of the bygone era. She said, "I wanted to save the building which is the last surviving lodge in Georgia, and then share the wonderful mountain architecture with locals and tourists." Original to the old lodge are the lobby's stone fireplace and about half of the rustic stick furniture. North supplied the other furniture with pieces from her antique shop. The new and improved hotel debuted in 2008.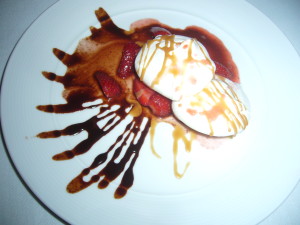 Amenities include a complementary custom-made breakfast. An upstairs lounge offers all-day snacks of homemade cookies, fruit, coffee and other beverages, while downstairs, TV and DVD's entertain. With beautiful Lake Rabun across the road, water activities are popular. Also available are golfing, hiking, white-water rafting and horseback riding. In the kitchen, Chef Ryan Spruhan creates a culinary experience with each meal. He invents gourmet dishes from local produce and fresh ingredients – everything from local favorites to innovative nouveau cuisine.
Hidden among the hemlocks, pines, mountain laurels, rhododendrons and other native plants, Lake Rabun Hotel provides the perfect mountain getaway.
If you go:
Lake Rabun Hotel, 35 Andrea Lane, P.O. Box 10, Lakemont, GA 30552. Toll-free 1-800-398-5134, lakerabunhotel.com. Rates: $134 — $190; reservations recommended; open year round. Small weddings venue. Special packages. No smoking inside; children over 10 only; no pets.