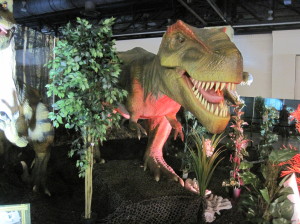 Families filled the Philadelphia Convention Center this weekend to "Discover the Dinosaurs." The event was both educational and fun. Dioramas featured automaton dinosaurs in authentic settings with dramatic lighting and sounds, and became interactive when buttons were pressed by the viewers. Well-placed plaques revealed information about the specimens. Children who were involved in the Scavenger Hunt studied the scenes for clues. Players who completed their scavenger hunt findings were rewarded with dinosaur-themed trinkets.
Another fascinating exhibition displayed the creatures found during the Ice Age. Huge replicas that represent that period of time included the saber-tooth tiger, the cave bear and the wooly mammoth. That era also included men who lived in caves (cavemen), unlike the time of dinosaurs.
Dino Dig boxes encouraged kids to brush sand off buried dinosaur "bones," and the Dino Theater showed films with dinosaurs in action. But the most popular area was lined with blown-up dinosaurs that were disguised as bouncy-houses, slides and more.
Long lines were found at the face-painting section where youngsters could choose from a selection of imaginative dinosaur images to wear on their faces. They also waited patiently to ride a wooley mammoth, a t-rex or a triceratops. Children of all ages were also kept amused in a mine, panning for "relics" and playing miniature golf.
Warm, sunny weather helped to make the event a monster success. It will be repeated the weekend of April 18 and 19 in Jackson, MS, Palm Springs, CA and Winchester, VA.
The Philadelphia Convention Center has many fun events. Look for Philadelphia Comic Con — Wizard World, May 4-10.
Photos by Eleanor Hendricks McDaniel